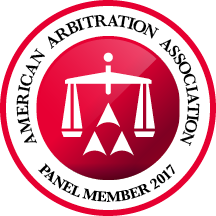 Mr. Smith has an active Alternative Dispute Resolution practice involving hundreds of mediations and arbitrations. He is a Panelist on the American Arbitration Association (AAA) National Roster of Arbitrators in the areas of both Commercial and Employment Law. He is also on the distinguished panel of neutrals with Advanced Resolution Management. In addition to offering private arbitration and mediation, he has served as a court appointed arbitrator for the Eighth Judicial District Court in Clark County, Nevada for more than two decades. He is a graduate of the American Arbitration Association University's 40 hour Fundamentals mediation training program and other ongoing continuing education in ADR and litigation.He is also a court-approved Mediator for the Mortgage Modification Mediation program of The United States Bankruptcy Court for the District of Nevada. This program applies to Las Vegas Chapter 13 bankruptcy filings and all types of real property--commercial and residential. For more information, see Administrative Order 2014-08, effective January 1, 2015.
Mr. Smith provides mediation, early neutral evaluation and arbitration services for cases and claims in the following areas:
Personal Injury
Wrongful Death
Insurance Coverage
Bad Faith
Product Liability
Commercial/Business Disputes
Real Estate
Employment
FEES
Kirby J. Smith's fees for private mediation and arbitration is $390 per hour in Las Vegas with no additional administrative fees. Expenses are billed at cost. For proceedings held outside of Las Vegas, travel time is billed at $200 per hour and travel expenses are billed at cost. Matters canceled will be billed for Mr. Smith's time on the matter to date.
---
TOP 10 REASONS TO MEDIATE
Mediation is fair and neutral. Parties have an equal say in the process and they, not the mediator, decide the terms of the settlement. There is no determination of blame in the process.
Mediation saves time and money. Mediation usually occurs early enough in the process to bypass most fees, and many mediations are completed in one meeting. Legal or other representation is optional but not required.
Mediation is confidential. All parties sign a confidentiality agreement. Information disclosed during mediation will not be revealed to anyone.
Mediation is far cheaper than litigation. Mediation costs less than a lawsuit.
Mediation avoids uncertain litigation results. Mediation avoids the uncertainty of a judicial outcome and the stress and time of litigation.
Mediation fosters cooperation. Mediation fosters a problem-solving approach to complaints and business disruptions are reduced.
Mediation improves communication. Mediation provides a neutral and confidential setting in which the parties can openly discuss their views on the underlying dispute. Enhanced communication can lead to mutually satisfactory resolutions.
Mediation helps to discover the real issues. Parties share information, which can lead to a better understanding of issues affecting the workplace, the family, or the business.
Mediation allows you to design your own solution. A neutral third party assists the parties in reaching a voluntary, mutually beneficial resolution. Mediation can resolve all issues important to the parties, not just the underlying legal dispute.
With mediation, everyone wins. An independent survey in the employment context for example showed 96% of all respondents and 91% of all charging parties who used mediation would use it again.
WANT A BETTER ARBITRATION? USE A MORE FOCUSED ARBITRATION AGREEMENT
Many complaints about the arbitration process result from a limited or unfocused arbitration agreement which, after all, governs the arbitration process most. Here are some things to address in your arbitration agreement:
1. Define which disputes are to be arbitrated, and which are to be litigated.
2. Define the number of arbitrators and how they are to be selected.
3. Define the qualifications of the arbitrators. If you want someone with a particular level of experience or technical knowledge, specify it.
4. Where will the arbitration take place?
5. What substantive law will be used?
6. Who is to pay the arbitrator's fees and administrative costs. (50/50)?
7. Do you want to limit the duration/scope of the discovery? You can get as specific as you like. You can designate the number of depositions, whether interrogatories will be allowed, how to handle electronically stored information, etc.
8. Will dispositive motion practice be allowed?
9. Should the matter be submitted on documents without live testimony or oral argument? If not, do you want to limit the duration of the arbitration hearing?
10. What type of relief can be granted? (Equitable? injunctive? punitive?)
11. What type of award is required? (Standard (no reasoning), reasoned, or with findings and conclusions?)
12. Who pays the parties' attorney fees? Will each side bear their own, will one side pay all, or is the arbitrator going to decide based on who is the prevailing party? Will it be actual or reasonable attorney fees? If one side pays 100%, can interim fees be awarded?
​